ELCITA is looking for an Assistant Manager – Security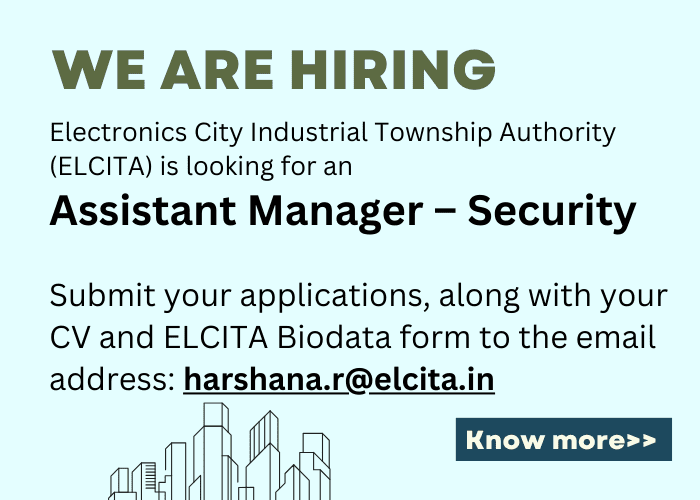 Electronics City Industrial Township Authority (ELCITA) is looking for an "Assistant Manager –Security". The scope of work includes Township Security, Traffic Control, and Physical Security of Offices/ Facilities.
He/she should be able to implement best practices and evolve effective processes that promote security, safety and accountability in an efficient and sustainable manner.
Roles:-
1.To ensure that adequate security measures are implemented in a Phase of Electronics City Industrial Township in coordination with Company Security, Local Police, and CISF.
2.To ensure proper Traffic Management within a Phase of Electronics City with the help of ELCITA Security and Electronics Traffic Police.
3.To ensure implementation effective safety, firefighting, and security measures in ELCITA-owned properties located in a Phase of Electronics City.
4.To promote sustainability and ESG norms in all activities.
Responsibilities:
a) Coordinate security operations/activities with public law enforcement, fire, and other agencies the Phase.
b) Carrying out surprise checks in the Phase.
c) Plan, organise and coordinate security activities to safeguard company assets, employees & visitors in the Phase.
d) Promoting safe work activities by conducting safety audits, and attending company safety meetings in the Phase.
e) Analyze and evaluate security operations in the Phase to identify risks or opportunities for improvement.
f) Supervising of Sustainability Park control room with well-trained security officers.
g) Identify, investigate and resolve security breaches in East Phase.
h) Arrange for performance of executive protection activities, when required.
i) Supervise subordinate security professionals, performing activities such as training, assignment work, evaluating performance or disciplining.
j) Organize and train Traffic Wardens and guards for new equipment, optimize resource utilization.
k) Respond to medical emergencies, bomb threats, fire alarms or intrusion alarms, following emergency response procedures.
l) Ensuring that there is no unauthorized parking on ELCITA roads in the Phase.
m) Ensuring that there is no promotional activity inside ELCITA boundary in the Phase.
n) Co-ordination with all ELCITA functions for any estate related works in the Phase and resolving issue related to security and traffic control.
o) Learn and implement the best practices for improving the quality of service delivery.
p) Ensuring that Fire Safety, Fire Alarm and First Aid equipment/kits are always maintained in ready-to-use condition in all ELCITA premises in East Phase.
q) Perform any contingent task assigned by Security Manager/CASO/CEO/ELCITA Committee.
r) Checking and validating the attendance, invoices and other documents submitted by Security Agency in respect of security staff.
s) Coordinating the leasing, handing over and maintenance of family accommodation of CISF staff.
t) Coordinating the repair and maintenance of CISF equipment.
Essential Requirements:
1. Graduate with 5 years of experience in managing security and transport in industry or ex-serviceman with 15 years of relevant experience.
2. Candidates with suitable experience in armed forces will be preferred.
3. Excellent written and verbal communication skills in English.
4. Read, write and speak Kannada.
5. Excellent record of integrity and honesty.
Download ELCITA Bio-data form