Opening for Chief Executive Officer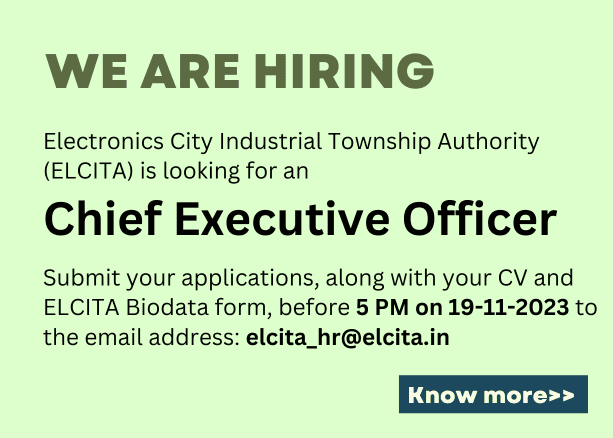 Electronics City Industrial Township Authority (ELCITA) invites applications from suitable candidates for the position of Chief Executive Officer, ELCITA. Candidate should be a Bachelor of Engineering (B.E) or Master of Business Administration (MBA) with a minimum of 10 years' experience in Managerial and Technical capacity of handling Solid Waste Management / Liquid Waste Management/ Water Supply Management in Urban Local Bodies in India / SEZ /Industrial Towns/ Facilities run by Industrial  Boards anywhere in India/Facilities run by Para State / State or Union Government in Urban Water Supply and Sewage Board.
Job Description: Chief Executive Officer (CEO), ELCITA
Job Location – Bengaluru
Type – Full-Time Employee on contract
Employment Terms – Confirmation after successful completion of probation period of six months.  The normal terms of appointment are a contract of 3 years extendable by two years on mutual agreement
Compensation – Will be commensurate with experience.
Knowledge of Kannada is essential.
Key Responsibilities –
Operations – Provide strategic and operational leadership to the township authority
Lead all day-to-day operations; The range of activities includes managing high tech infrastructure commensurate with the needs of the community, implementing municipal functions, interacting with the local bodies, Government, citizens, security, and traffic personnel
Work with the Management Committee and its nominated sub-committees to realize the vision and goals outlined for the township
Develop and monitor an index that measures ELCITA on parameters that enable it to be the best place to work!
Set benchmarks for delivery of basic services and maintain a dashboard for monitoring key parameters
Any other responsibility as deemed necessary by the Management Committee from time-to-time
Public relations and outreach
Engage with stakeholders of the township on a continuous and purposeful basis to create event ideas and follow through with the delivery of events

Oversee, coordinate, organize all events, including town hall meetings, cultural festivals, workshops, etc.

Manage outreach and communication through media
Efficient management of the township authority
Recruitment and management of staff as prescribed by The Karnataka Municipalities Act
Creating, overseeing, and managing outsourced contracts, including estate management, solid waste management, traffic management, and security
Ensure smooth functioning of township operations and the necessary standards relating to environment, health, safety, and quality are maintained
Effective use of e-Governance and collection of data from digitization initiatives for better resource management and transparent governance
Finance and Administration
Review and refine governance processes for the township

E-Governance for transparent and efficient administration as per the Municipal Act and other applicable laws
Effective service delivery process
Robust audit procedure
Ombudsman to address grievances

Ensure all statutory licenses and approval processes are in place in an effective manner
Ensure statutory compliance
Stakeholder Management
The CEO must be able to maintain a positive and productive relationship with all stakeholders, including Management Committee members, Government, industry, and various agencies connected with the township
To build professional relationship with Township Development Officer (TDO) and cohesively work towards achieving ELCITA objectives.
Engage effectively and manage relationships with internal as well as external stakeholders to build cooperation, alignment of objectives, and successful outcomes

Member management – engagement and feedback
Government liaison
Build a consensus amongst the diverse stakeholders while also developing appropriate policies and initiatives that draw on the immense expertise within these stakeholders
Desired skills/qualifications
Bachelor of Engineering (B.E.) or Master of Business Administration (MBA)
Good leadership skills with strong execution capability, articulation, and technical and managerial capability, with emphasis on the usage of modern and innovative techniques adopting IT
Hands-on leadership style – results-driven and decisive leader in a dynamic and demanding environment
Good knowledge and understanding of the Municipality Act and related processes
Good communication and problem-solving skills matching the aspirations of the modern and progressive electronics & software companies
A mature and experienced person with a successful track record, capable of translating the vision of ELCITA into concrete programs and executing them efficiently, and in building up a profile of ELCITA as a model Township in Bengaluru
Ability to build a strong team that can deliver service on time within budgets, with the focus on processes
Should have min 10 years of experience in the managerial and technical capacity of handling: solid waste management/ Liquid waste Management/water Supply Management in urban local bodies in India / SEZ /Industrial Towns/ facilities run by boards anywhere in India/Facilities run by para status/State or union Govt. in Urban Water Supply and Sewage board.
ELCITA is an equal opportunity provider with no gender bias for this position
Desired Attributes
Preferably a polymath; curious and strong interest in cultural and intellectual issues, interests in diverse subjects such as corporate governance, public administration, economics, geopolitics, arts & culture.
Tech / social media savvy
Ideation – Able to think creatively, innovatively and create breakthrough initiatives and service quality for members at ELCITA
Capable of understanding the vision from the Management Committee and operate with speed and diligence
Ability to build on the success and reputation which ELCITA already enjoys
Gravitas, stature, credibility – Face of ELCITA to the world, should manage a complex stakeholder group effectively.
Team player – Open to multiple ideas, views
Collaborative – should be able to take people along – needs to work with the Management Committee and facilitate decision making in the interest of ELCITA.
Desired Experience
Minimum of 10 years of experience.
Min 40 years max 55 years of age.
At least ten years of senior management/leadership experience in technology, business strategy, public administration, and program management.
The eligible candidates can apply for the post in the prescribed format and along with detailed CV to Electronics City Industrial Township Authority (ELCITA).
CV and completed application form may be sent by email to elcita_hr@elcita.
The hard copy may be sent by post to:
The Authorised Officer,
Electronics City Industrial Township Authority,
No. 7(P), West phase,
Electronics city, Bangalore – 560100
Last date for receipt of applications with connected documents: 19th  November 2023 – before 5 PM.