Electronics City, a thriving IT hub in Bangalore, India, is rapidly transforming into a Smart City with ELCITA's focused initiatives. We have established an efficient communication network infrastructure spanning the entire estate, connecting Internet of Things (IoT) devices to the Centralized Command Centre (CCC). This backbone facilitates real-time monitoring of city operations and empowers our citizens with crucial updates through a user-friendly dashboard.

ELCITA, in collaboration with multiple service providers, has implemented 23 modules covering municipal and non-municipal functions essential for seamless city operations and services. These modules are seamlessly integrated into the CCC dashboard, known as the I Connect Platform, enabling real-time data analysis and information sharing among departments and citizens. Our Smart City Infrastructure aims to uphold industry-standard IT practices, environmental friendliness, and sustainable waste management.
Networking Infrastructure:
Our smart city network team is the backbone, providing essential safety, security, and traffic management support. With an extensive optic fiber cabling network, public address systems, and IoT devices, we ensure smooth operations across Electronics City.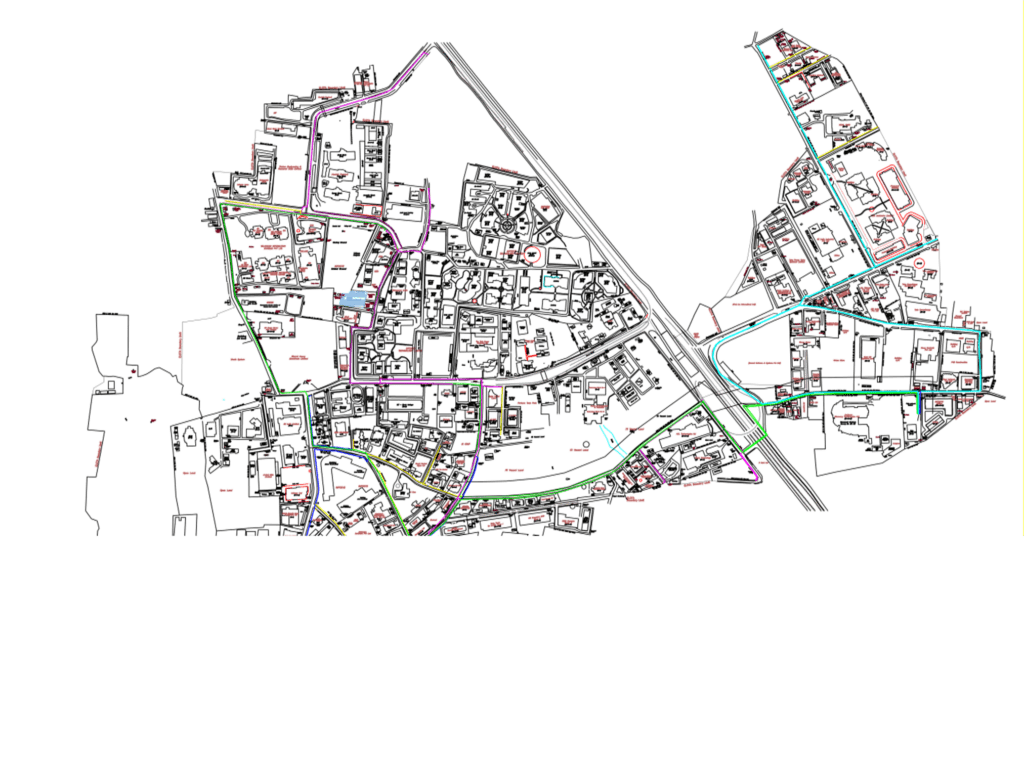 CCTV Surveillance Infrastructure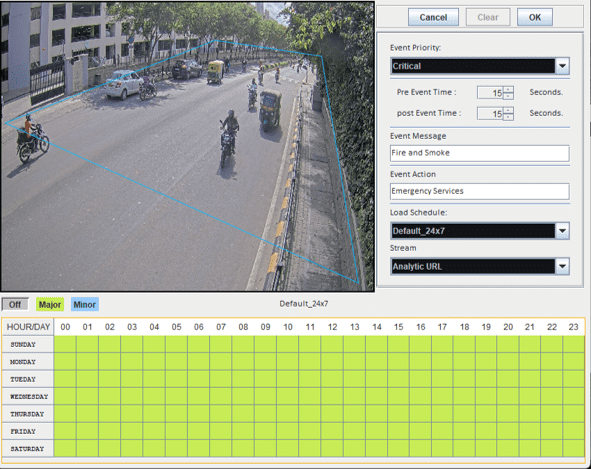 To enhance safety and security, we have set up a comprehensive CCTV surveillance network across the township, monitored 24/7 by the CISF command center. Our OFC network and CCTV cameras ensure uninterrupted recording and swift response to untoward incidents. We collaborate with law enforcement departments, sharing evidence of law and order-related incidents for a safer community.
Command Control Center (CCC)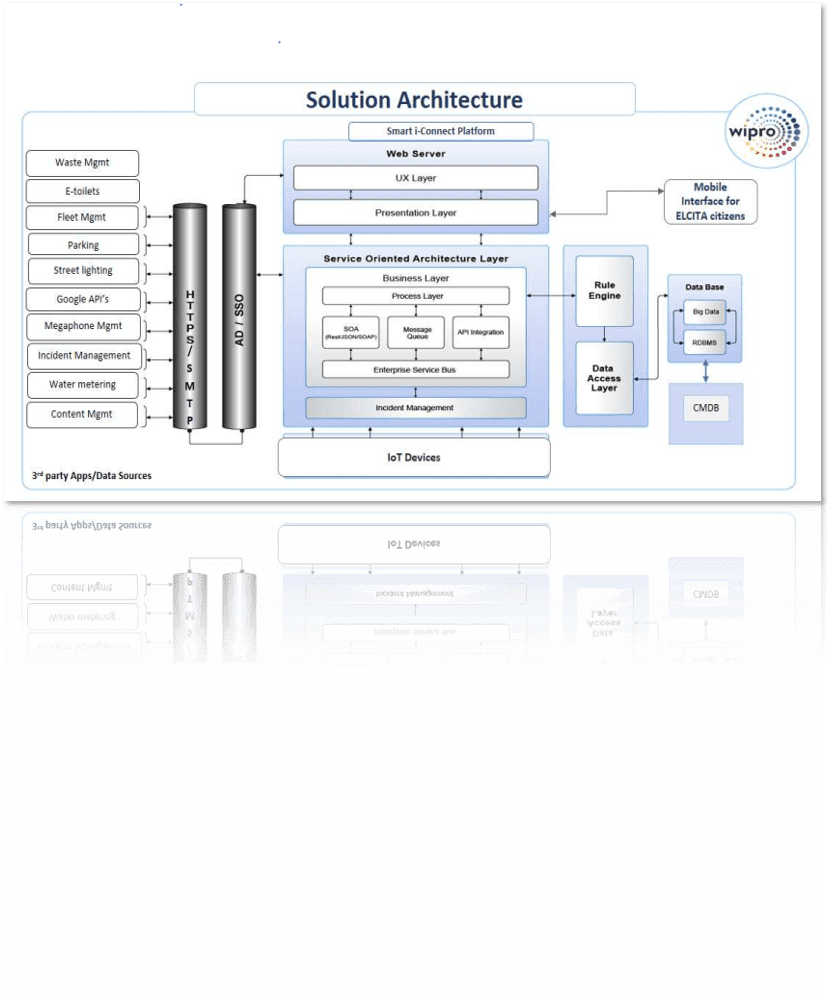 ELCITA's CCC, integrated with 23 modules, provides valuable insights into city functioning to departments, management, and citizens. Real-time data visualization and analytics empower us to predict and respond to future events effectively. The CCC also plays a crucial role in tracking ELCITA's carbon footprint, steering us towards becoming "Net Zero." Furthermore, our ESG initiatives aim to improve the Environment, Social, and Governance mechanisms.
We actively monitor various environmental parameters, including waste management, water supply, air quality, and electrical infrastructure. Our smart biogas plant converts organic waste into methane and biofertilizers, reducing fossil fuel dependency. ELCITA ensures real-time monitoring of sewage treatment, water quality, and air quality parameters, all contributing to a cleaner, greener environment.
ELCITA's social initiatives focus on enhancing citizen welfare. We manage grievance resolution, offer cutlery banks to reduce single-use plastics and provide emergency and health services. Our free shuttle bus service and public toilets management add to the convenience and well-being of our citizens.
We leverage technology for efficient governance, implementing the E-Katha system, traffic management, parking management, and estate management. ELCITA also prioritizes road assessment and utilizes social media platforms for effective communication.
Our dashboard integrates various software modules that enable us to monitor and manage Environmental Initiatives, Social Initiatives, and Governance functions. These modules provide valuable data and insights to all stakeholders, fostering collaboration and informed decision-making.
I. Monitoring Environmental Initiatives: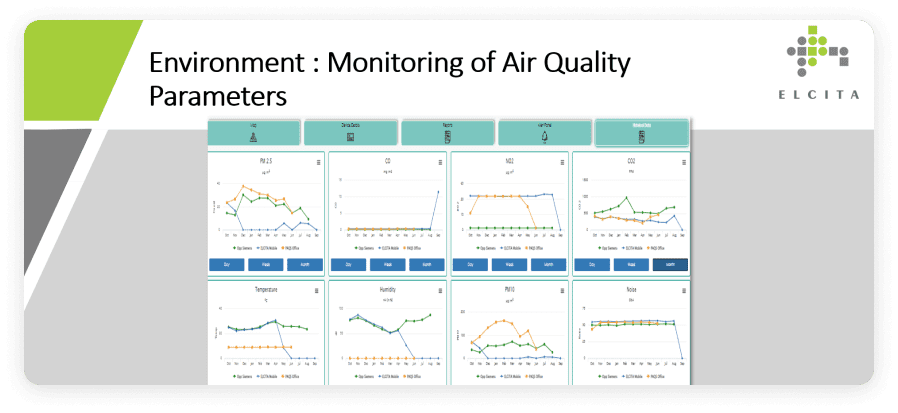 We've implemented an advanced waste management system with a collection app and smart scale machines. QR codes and location data help optimize waste strategies for a sustainable city.
Green energy is the future! We produce methane and monitor solar plant performance.
Efficient Sewage Water Management:
Our sophisticated software tracks sewage activities, ensuring efficient management and minimal environmental impact.
Fresh Water Management for Conservation:
ELCITA is actively working towards water conservation and reduction of water wastage with smart meters, minimizing leaks and ensuring safe water for all.
Environmental Parameters Monitoring (Air quality parameters):
Your health matters! We monitor air quality with three sensors (Nox, Sox and PM10, PM20 and CO, O3), keeping pollutants in check for a healthier living environment.
Smart Street and Highmast Lights:
LED lights with remote monitoring save power and enhance lighting efficiency. Any faulty status, alerts are sent to the dashboard and via email for prompt resolution, contributing to a safer environment.
Monitoring of Smart DG Sets:
Real-time monitoring ensures reliable power generation and efficient DG set management.
Green energy is the future! We produce methane and monitor solar plant performance.
Your concerns matter! We promptly address issues with efficient grievance resolution.
Say no to single-use plastics! ELCITA's Free Steel Cutlery Bank offers a sustainable solution to reduce carbon generation. With requests managed through the Elcita citizen app, track your usage and the availability of reusable cutlery.
Emergency & Health Services:
Access comprehensive healthcare on the go with the Elcita Digi Health web app. Stay prepared with real-time emergency care services, hospital registrations, doctor listings, and specialized medical supplies availability, all in one user-friendly platform. This interactive platform enables citizens to access vital healthcare information, promoting healthy living and facilitating early detection and management during emergencies.
Smart Bus Stop for Enhanced Amenities: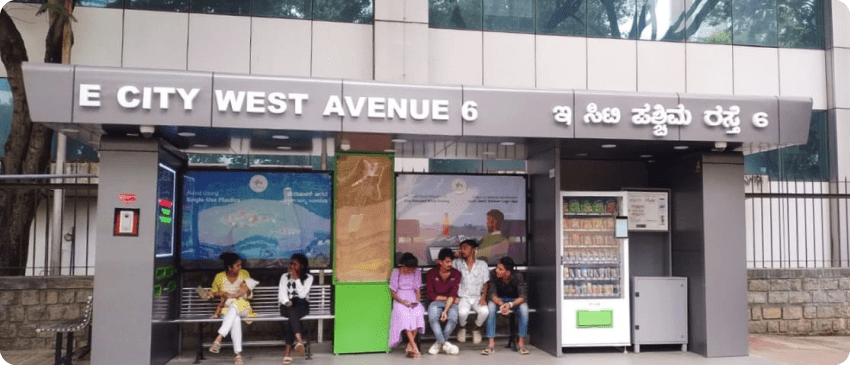 Commuting made better! Charging stations, snacks, and bus route info for your convenience.
Free Shuttle bus within the city:
Hassle-free commuting. Designed exclusively for Electronics City Industrial Township employees, our shuttle buses provide a convenient and eco-friendly transportation option. No traffic woes and parking hassles as you ride comfortably to your destination, making your daily commute a breeze.
Easy online access for tax collection, building plans, and property management.
Efficient Fleet Management:
GPS tracking ensures better fleet management, reduced fuel consumption, and improved transportation services.
Effective Road Assessment:
Our proactive approach ensures smooth roads and safer transportation.
Improved Traffic Management:
Say goodbye to traffic jams! Smart signals and real-time analysis keep traffic flowing smoothly. With smart traffic signals at key junctions within Electronics City, ELCITA has significantly improved mobility and transportation.
Disseminate real-time information, updates, and important announcements to residents, employees, and visitors. By actively leveraging these platforms, we create an inclusive digital space where citizens can voice their opinions, share feedback, and collaborate on collective initiatives.
Continuous improvement is at the core of our Smart City journey. Regular ISO and VAPT audits maintain information security compliance. Our goal is to achieve 99.0% uptime and provide secure and stable service availability. Citizen grievance tickets have defined SLAs, ensuring prompt resolutions.
ELCITA's transformation into a Smart City is an amalgamation of cutting-edge technology and sustainability. The CCC dashboard, equipped with real-time data and analytics, empowers us to manage city operations efficiently. With a focus on Environment, Social, and Governance aspects, ELCITA strives to create a greener, safer, and smarter Electronics City for its citizens.
Contact our team for any IT-related inquiries or assistance.
We're always happy to receive feedback about ELCITA and how we can improve Electronics city.
S.No.7 (P), Hosur Road , ELCIA Complex, West Phase, Electronics City, Bengaluru, Karnataka 560100