ELCITA continually works towards providing world class services to its citizen by partnering with agencies that provide innovative citizen centric services that helps us and deliver the best experience to our citizens. One of the stated objectives of ELCITA is to ensure safe and a smooth travel experience for commuters. For this is essential that the roads should have a good riding surface and be pothole-free. To ensure this objective, the manual periodic inspection of roads to collect data on road status was replaced by AI driven software called Road metrics to enable speedy and accurate identification of defects to the roads that enable speedy defect rectification. A conventional Android mobile device mounted in the vehicle captures the image which is analysed by an AI driven software provides a detailed report of the defects that covers:
Classification of defects (into 10 different categories)
Providing accurate longitude and latitude of each defect.
Segregates of defects based on the severity of damage.
Minor defects in roads/potholes are rectified by ELCITA's in-house team using road bond (cold mix). Major defects are contracted/tendered out. After rectification work, the in-house team captures the images from the App and submits the same for approval which marks the defect as fixed on the platform in real-time. Adopting the software not only helps in complete visualization of the entire road network of the estate briefly, but also saves the staff a considerable amount of time thus enhancing the efficiency of the teams.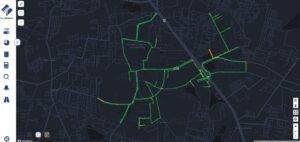 2. APP FOR MEDICAL SERVICES
ELCITA Digi Health web application is an interactive platform that provides access to state-of-the-art Health Care Services, across specializations for El Citizen by developing web application portal.
Existing Features:
Display of all Medical resources Hospital registration page (Display of Hospitals near e-city in and around on map and distance from their location with doctors list, doctor's contacts, specializations)
Ambulance Module (Ambulances availability, book an ambulance immediately from elcita citizen app , tracking of Ambulance)
Display of all Medical resources (Availability of beds, Ventilators, Medical Supplies, Oxygen Respected Hospital linked to their website under/concentrators, Home ICU set up ambulances etc.)
3. DATA ANALYTICS/ DECISION SUPPORT SYSTEM
The role of data analytics is to extract and catalogue data, so that organisations can pinpoint and evaluate relationships, patterns, and trends so they can glean insights and draw conclusions based on the data and use these to make informed decisions. Such data can include information on customers.
Importance of Data Analytics:
Currently all ELCITA modules have been integrated with ccc platform
Presently Data Analytics of the existing modules is underway to enable creation of a Decision support System
Identification of effective solutions and tools for implementing cognitive initiatives.
IUDX Platform – spreading the datasets to other cities by sharing use cases
ELCITA is responsible for ensuring safety to all infrastructure and facilities within Electronics City Citizens. Power and ofc cable line being the main lifeline of the electronic city, any damage to these assets during the execution of work could be catastrophic and lead to huge losses. To reduce the possibility of such damage, GPR survey was carried out to identify the exact location of underground utilities.
Sub Surface Utility Engineering (SUE) survey using GPR (Ground Penetrating Radar) and Induction Locator was carried out for finding out underground utilities at ELCITA ELECTRONICS CITY BANGALORE Electronics City Bangalore.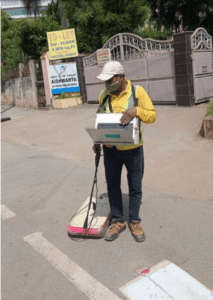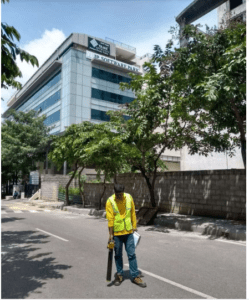 To ensure proper documentation of its processes ELCITA is working on obtaining ISO 9001 certification for Quality Management System (QMS), which enables a systematic approach for carrying out our activities with consistent quality. ELCITA is also working on ISO 14001 (Environmental Management System EMS) which enables us to adopt a systematic approach to measure and improve the environmental impact of our operations.
6. INTEGRATED WATER MANAGEMENT
Integrated Water Management (IWM) is a process that promotes the coordinated development and management of various form of water. ELCITA has taken following initiatives to achieve water positive by 2025.
Freshwater:
To enhance the quality and quantity of freshwater; ELCITA has taken innovative measures like (a) Smart water metering to all the freshwater supply network to reduce non-revenue water loss from error free consumption analysis. (b) Software developed for smart vehicle and smart billing process to achieve smart sustainable water management for smooth operations in all levels. (C) Online monitoring system installed to measure, monitor and analyse the real time water quality to meet BIS STANDARDS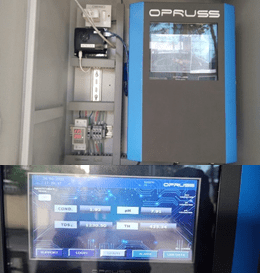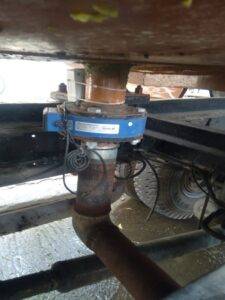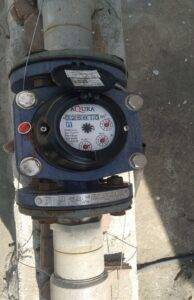 Smart ultrasonic flowmeters fixed for water tankers with IOT integration
Treated water: Recycling water is an important aspect of water resource. Water reuse generally refers to the process of using treated wastewater (reclaimed water) for beneficial purposes such as landscape irrigation, industrial processes, non- potable urban applications (such as toilet flushing, street washing, and fire protection), groundwater recharge, recreation, and in ELCITA we are promoting the usage of recycled water within the Estate to reduce "Freshwater Demand". Which is substituting 40% of the freshwater and reducing the water demand burden by adopting proper system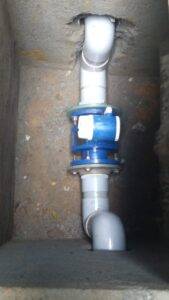 Smart Electromagnetic flow meter
To achieve safe work environment to operators at STP, replaced highly Corroded MS structure with Non-corroded SS304 sheets and Mechanical dewatering process to avoid manual sludge dewatering process etc.,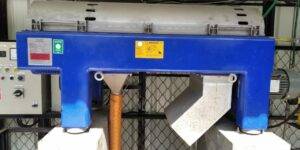 Centrifugal dewatering system
RECHARGE PITS
ELCITA established around 90 rainwater recharge pits in and around electronics city of capacity 75 KLD. Rainwater recharge capacity for each pit is 4 cum. Also, initiated with aquifer recharge pits for non-working borewells to enhance the ground water table.
Further to improve, ELCITA upgrading the rainwater recharge pits to injection wells by using v-wire technology of size 3ft X 60ft with necessary media filtration, which enhance the groundwater level.
HARVESTING
1MLD capacity of Rainwater harvesting facility is established. to collect and store the rain, rather than allowing it to run off.
Due to a reduction in infiltration and groundwater recharge due to the existence of large impervious areas, urban areas face the twin problems of floods durng monsoon and shortage of freshwater during non-monsoon months. (Biome)The solution, therefore, lies in decentralized rainwater harvesting, which is increasingly being turned to as it offers an alternative, affordable, reliable, and sustainable water source, in face of increasing water shortages.
ELCITA is working to create RWH systems across the estate and as a first step is creating RWH systems at the ELCITA office and  at ELCIA cluster, This would be a precedent for creating RWH systems across the estate.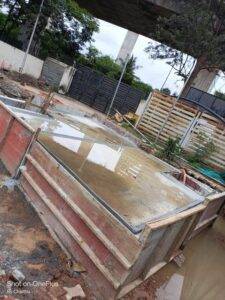 8. IGBC GREEN BUILDING RATING
ELCITA is adopting IGBC green city rating norms for effective management of all environmental issues, taking corrective and preventive actions for reducing environmental impacts due to ELCITA's operations and obtain Green City Rating Certification for Electronic City, Bengaluru. The key benefits of adopting the norms are;
Enhancement of Land use, Mobility & Infrastructure
Improve the overall quality of life.
Promote transit-oriented development
Achieve continual improvement of their environmental performance.
It would help review the mandated requirements and identify the gaps with respect to present practices and formulate plans for realization of Environmental objectives and improving the present systems.
ISO 27001 certification provides a clear framework for Information Security management processes and key operational elements of IT systems such as cyber security, and processes relating to protection, data storage and back-ups, IT Change Management, and event logging etc
This would ensure confidentiality, integrity and availability of its information assets to serve the needs and expectations of stakeholders within and outside the organization to serve their needs in line with ELCITA's vision, mission and values to meet all legal, statutory, regulatory and contractual requirements. ELCITA will also ensure the establishment, implementation, maintenance and continual improvement of its Information Security Management System.
ELCITA is engaged in creating a ESG road map by understanding its current risks and opportunities pertaining to Environment, Social and governance. This would help ELCITA to create a gap analysis between where ELCITA stands currently in reaching its objectives. This will then help charting out the action plan that needs to be taken.
ELCITA is working with Resustain software to capture data on the ESG – Environment ,Social and governance aspects based on the GRI framework. The software would also help ELCITA set baselines in its NET ZERO journey. The software would showcase the carbon foot print of all ELCITA operations. This would then help ELCITA take steps to become carbon neutral. The ESG software will also help ELCITA member companies to take their environmental performance based on the GRI framework.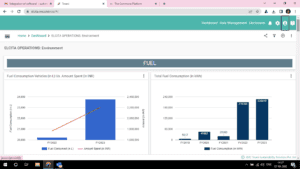 ELCITA is building a sustainability park with a 16TPD SWM facility and a 1.6 MLD STP. The objective of the park is to provide world class environmental services to its member companies and the surrounding neighbourhood. It will cover all aspects of the environment from solar to rain water harvesting. The R&D center that the sustainability park hosts will provide opportunities for Research and development in the environment field.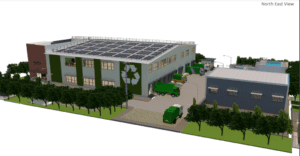 A 
smart meter
 have been installed to record information such as consumption of 
electric energy
, voltage levels, current, and power factor. Smart meters 
communicate the information
 to the consumer for greater clarity of consumption behaviour, and 
electricity suppliers
 for system Data from all ELCITA operations like STP, Pumphouse & Solid waste management plant, UPS & Streetlights to Control is planned to be utilised for monitoring and managing the functioning of the electrical equipment and enhancing efficiencies.
Objectives of the project.
To monitor real time energy consumption
To enhance the life span of equipment
Improve the health condition of equipment
Energy conservation
Carbon footprint reduction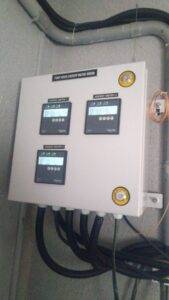 14. SEWAGE AND TREATED WATER LINE WORK IN PHASE 2
The sewer & treated water network system project forms a basic infrastructure for any municipality. The works aims at diverting the sewage from the storm water drains into sewer lines. This would help improve the quality of life, public health and the environment.
15. EAST PHASE TOLL PLAZA
Electronic City Township has been working to enhance toll plaza user experience by improving the form and function of the toll plazas. The structure was designed as a 20mtr two way spanned wing-like cantilevered of Steel Space frame structure, which is designed and constructed making use of bolted ball joint technology at a height of eight meters from a central node on all four sides. The tall dramatic structure provides increased visibility to the approaching traffic, while the signages and lighting help enhance the entire visual experience of the plaza. The Salient Aspects of the Toll Plaza comprises of   three lanes each for four and two wheelers. Photovoltaic panels have been installed to generate electricity to meet the entire requirement of the plaza operations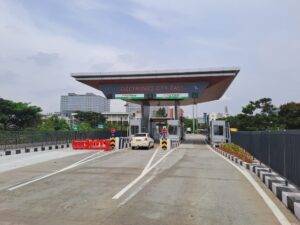 'ELCITA has embarked on a journey of making all services and information accessible to citizen online. This will ensure enhancement of ELCITA's efficiency & reliability of services to meet the aspirations of companies by the end of 2022. To facilitate this ELCITA has started working on a "Participative" E Governance platform. This would help us achieve the following:
Create a secure and robust environment that supports businesses
Strengthening good governance by enhancing transparency of operations
Broadening public participation and Citizen Engagement
Improving productivity and efficiency of ELCITA operations
Improve quality of life of citizen
Seamlessly integrate the functioning of departments
Ensure services are available in real time both online & on mobile platform
All citizen /company information to be available on the ELCITA server / cloud
Services to be transformed digitally to improve Ease of Doing Business
Making financial transactions electronic & cashless
Implement GIS for enabling decision support systems
ELCITAs existing smart city dashboard is working in different silos with google map support. We are planning to implement GIS software in I connect platform for data analysis and decision-making capability.
Current features
GOOGLE APIs used for dynamic traffic signals
Coding and bandwidth needed to launch new services offerings
Google API is not integrated to BI/ML for decision making process
Future Plans
Replace Google Services with GIS Solution and integrated with AI/ML Capabilities
Leverage various GIS functionality such as Traffic, Security, Waste management, Water supply, Property Tax calculation etc
Energy Audit of ELCITA operations is being planned to optimize energy consumption and stabilize the Power Factor to near unity. This will enable achieving continual savings, train the in-house manpower and  orient the organization towards achieving ZERO breakdowns and focus on attaining Net Zero status.
ELCITA is working towards making E-city an accessible, sustainable, and smart city. As a part of this initiative, ELCITA plans to construct 15 smart bus stops in various parts of E City. These bus stops would have many features that would enhance safety and travel experience of commuters.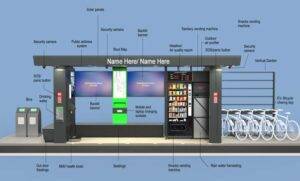 IOT Biogas plant-Food waste to energy: The IOT Biogas plant has been installed to convert the organic waste into methane gas(biogas) and biofertilizers to reduce the dependency on Fossil fuels. It will generate 15-20 m3 of methane gas per day.
Our mission is to protect citizen, processes and the environment by adopting different solutions that combine clean air with energy efficiency in a sustainable way. The endeavour of ELCITA being ensuring clear air by adopting measuring, monitoring and air filtration system to reduce human hazard by eliminating air pollutants such as Particulate maters, Nox & Sox etc.,
ELCITA is presently evaluating outdoor air quality monitoring systems for installation.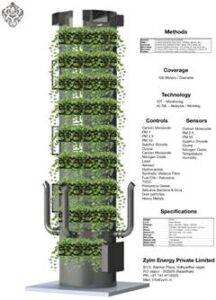 22. DISABLED FRIENDLY AND SUSTAINABLE FOOTPATHS
Upgradation of existing footpaths to disabled friendly and sustainable footpath: ELCITA plans to upgrade existing footpath to a disabled friendly and sustainable footpath to ensure:
barrier free access for the old, young as well as physically and visually challenged people.
Various sustainable amenities for pedestrians and commuters
Safe streets for all, in terms of lighting and various security features
Read our latest news. Be always in trend with daily news.