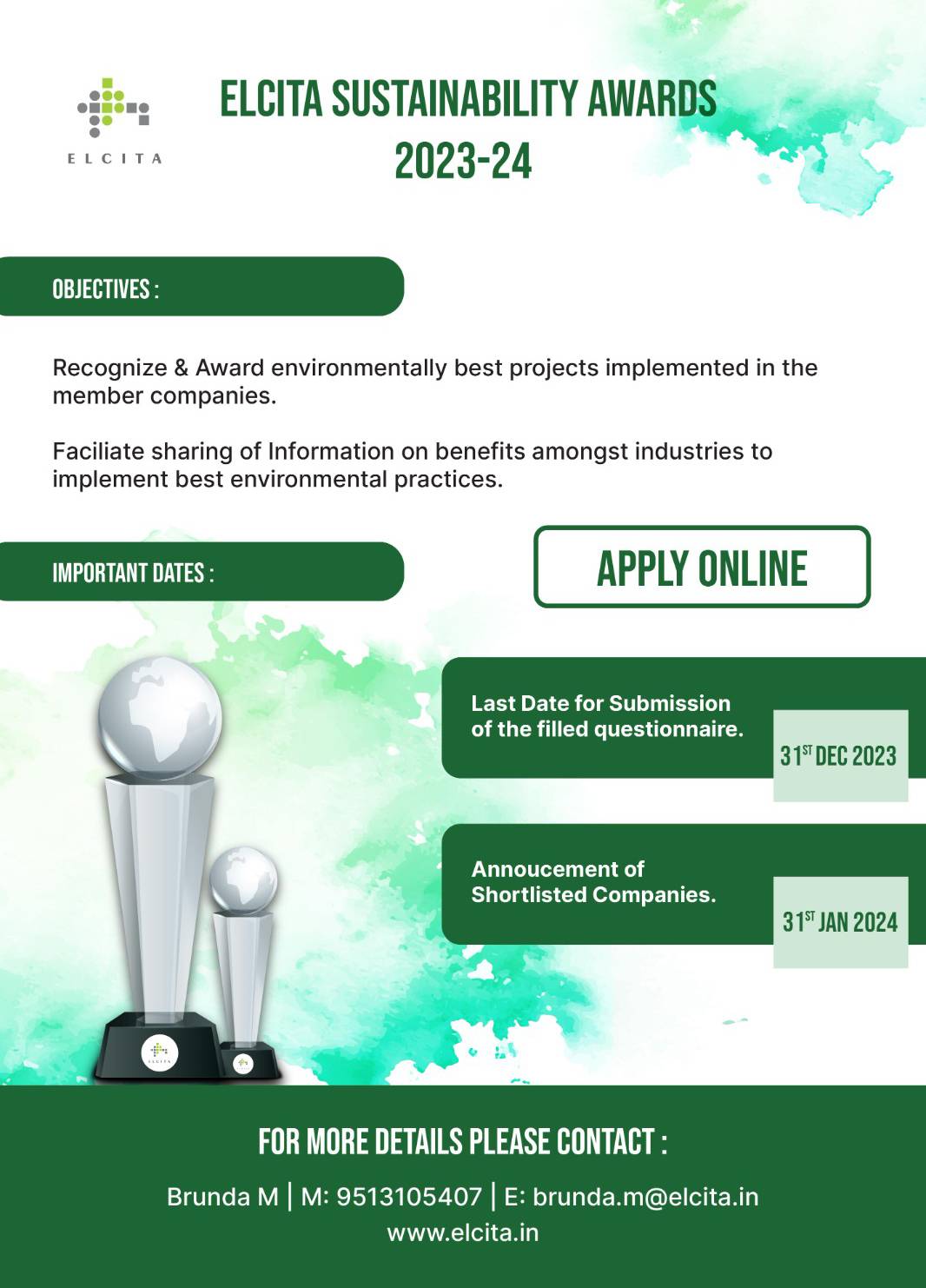 Introduction:
The ELCITA Sustainability Awards aim to recognize and celebrate the outstanding sustainability efforts of member companies in Electronics City. These awards will honour achievements in the following categories:-
Large Companies (1000 Employees or more)
Medium & Small Companies (Less than 1000 Employees)
Hospitality / Educational / Research / Commercial Organizations
Public Service Entities
Eligibility:
The ELCITA Sustainability Awards are open to all member companies operating within Electronics City.
Companies must have been in operation for a minimum of one year to be eligible.
Participants must demonstrate significant and measurable performance in the various areas of sustainability
Application Process:
Interested companies can submit their applications through the ELCITA website.
A company can apply in any one category only. Only one application should be submitted per organization
Companies can apply during the period 1st December 2023 to 31st December 2023
Evaluation:
An independent panel of judges with expertise in sustainability will review and evaluate the submissions.
Companies will be judged based on the effectiveness and impact of their sustainability initiatives.
Decision of the judges would be binding.
Awards Ceremony:
The date and venue of the ELCITA Sustainability Awards ceremony will be announced in due course. Winners will be announced and honoured during this event.
Last date for submission of the filled questionnaire – 31st December 2023
Announcement of shortlisted companies – 31st January 2023
Site Assessment – To be decided
Presentation in front of the committee – To be decided
Award function – To be decided
Requesting to fill this form on or before 31st December 2023

Direct Form Link:
https://forms.gle/FmedycutURgXK15JA
Please contact [email protected] for any queries
Read More